*This post may contain affiliate links. As an Amazon Associate we earn from qualifying purchases.
Air conditioners are expensive and buying the wrong one can be a costly mistake. Below, we break down everything you need to know about aircon brands to help you decide if an Amana air conditioner is right for your home.
Understanding How Air Conditioners Work (And What Your Options Are)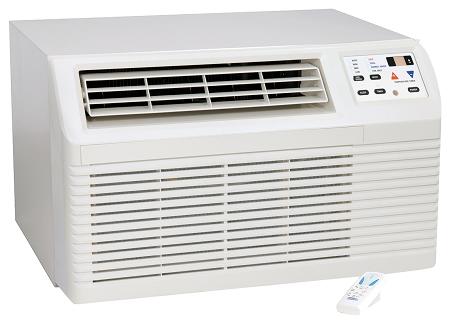 Image CCO via Flickr
[amazon fields="B0716Y9K53″ value="button"]
When it comes to cooling your home, you have a lot of options. You can use wall-mounted or portable units, opt for no cooling, or go with what most homeowners choose: a central air conditioner.
There are two main types of central air conditioners, and their use depends on the age of your home and whether or not it has existing ductwork (or whether or not ductwork can be installed). Split system central air conditioners utilize refrigerant and an indoor coil to move warm air out of the house via a blower.
The other type of air conditioner is a split ductless system. It's usually used for older homes that can't handle ducts (hence its name). It also uses refrigerant but sends it through refrigerant tubing.
What To Look For In A New Air Conditioner
There are three reasons to purchase a new air conditioner: your unit has broken, and required replacement,  your unit is old, and you are proactively replacing it, or you are installing a new unit.
Here are the things you need to consider:
Efficiency
The efficiency of your unit will be the primary driver of its cost. The more efficient it is, the more it will cost upfront, but the more you'll save during use. It's important to factor things like how many days each year you use your machine, how expensive electricity is where you live, and how energy efficient your home already is.
There are two standards for determining energy efficiency: the Energy Star certification and the SEER. An Energy Star certification means that the unit has passed minimum standards set by the EPA for energy use and cost to operate. At a minimum, the unit you choose should be Energy Star compliant.
SEER stands for seasonal energy-efficiency rating. The higher a SEER, the more cooling per watt of electricity your unit draws. A higher SEER will mean greater savings over the life of your unit, but a lower SEER will mean you pay less for your unit upfront.
Size
After efficiency, size is the most important thing to consider when you're purchasing an Amana air conditioner (or any other unit). The size of the unit needs to match your home and climate. A large home with two or three floors and huge windows, for example, will require a much larger unit than a small home with few windows.
Size is also related to efficiency and the longevity of your unit: if your unit is too small for your home, you will strain your unit and potentially damage it. If your unit is too large, it will also be very inefficient.
The Warranty
The warranty is third on our list, but it is not unimportant. The best warranty covers the compressor, the most expensive part of the unit, for a lifetime. Most basic aircon brands provide a ten-year limited parts warranty–this usually does not cover the compressor.
Frankly, it's the warranty that sets the competition apart more than almost any other feature and again, the better it is, the more the unit will cost.
Installing Your New Air Conditioner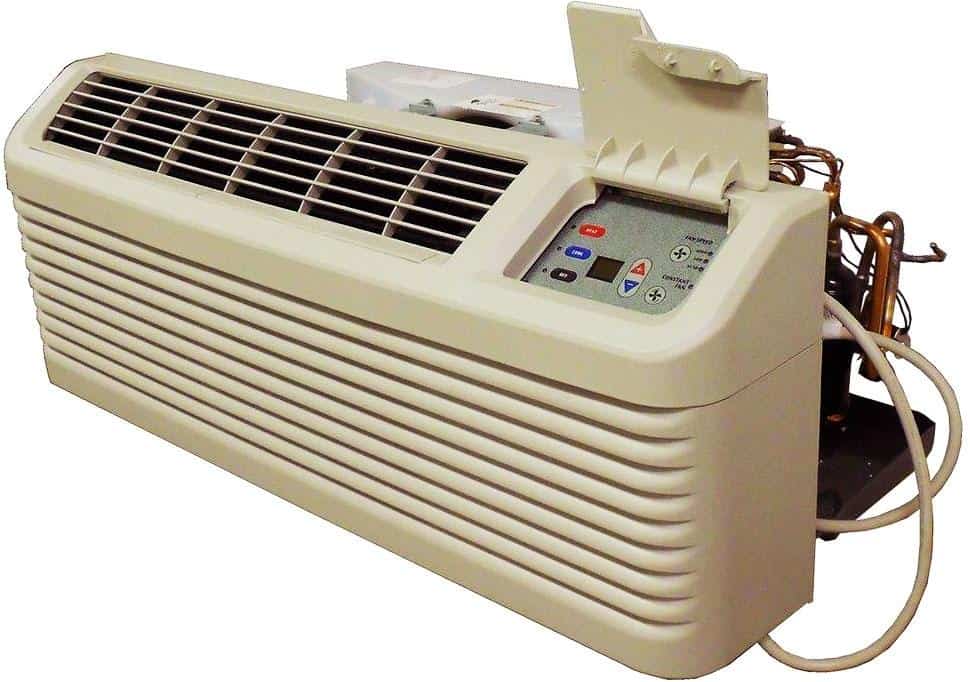 Image CCO via Flickr
[amazon fields="B07289LXJN" value="button"]
Unlike, say, a new refrigerator, buying a new air conditioner is not comparing apples to apples. It's very important to also take into account who is going to be installing your new unit. He or she needs to be HVAC certified, and because of the nature of the expense, the company should be able to guarantee their work.
Whoever is going to work on your air conditioner should also be able to provide you with clear and detailed estimates up front.
Don't Go With The First Estimate Right Away
Some HVAC repair techs won't offer a variety of units (some have deals and will only work with certain aircon brands, for example). After this review, if you decide you want to stick with an Amana air conditioner, you might need to check with several different repair companies to find one that offers the unit you want at the best price.
We also suggest choosing a company that has a solid history of at least four-star reviews online. One thing to keep in mind before replacing your unit outright is to get another opinion. If a repair tech is suggesting you replace your unit before the ten-year mark, it won't hurt to have another company take a look and verify for you.
Look For Specials And Incentives
It's also worth calling around to get estimates on replacement costs from different companies. Many repair companies offer incentives for going with them for replacements. You should look for things like financing deals, cash back, warranties, and so forth.
Saving Money On A Replacement
If your unit is already nine or ten years old and you are anticipating needing to replace it soon, check into home warranties. A home warranty costs less than $50 a month but will cover the cost of major repairs.
Make sure you read the fine print before investing in one, however, as some will not cover the cost of an AC replacement, and make sure you don't currently have any issues with your unit, as that might void the warranty.
What Makes Amana Air Conditioners Unique?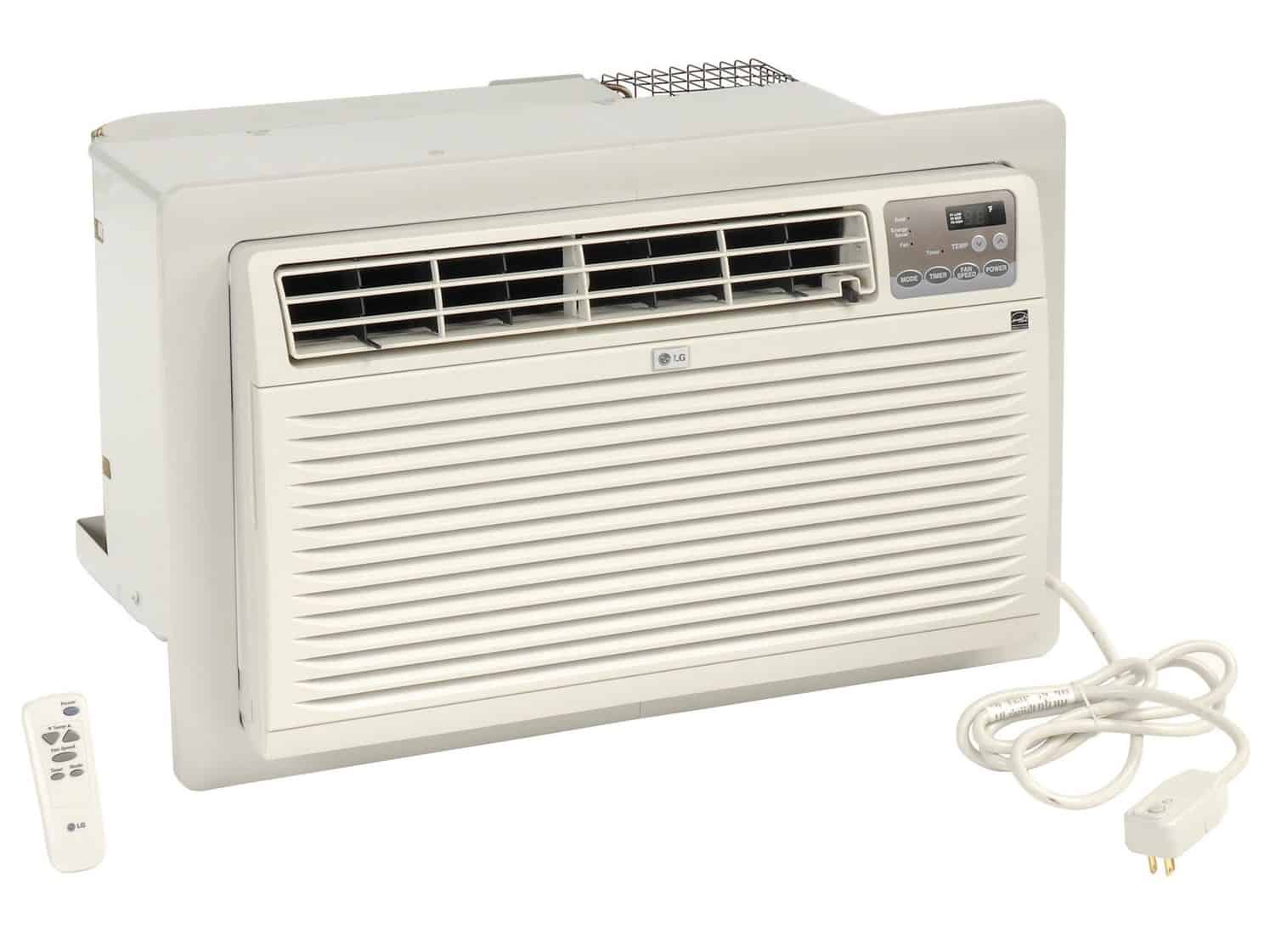 Image CCO via Flickr
[amazon fields="B071Z83TLC" value="button"]
We're going to break it to you straight: there's not a huge amount of variation from brand to brand when it comes to high-performing air conditioners.
The things you most want to do to make sure you're getting a unit that cools well and doesn't break down is to makes you are 1) matching the right unit to your house and cooling needs, 2) choosing a unit that's as efficient as possible, 3) selecting a unit with as high a warranty as possible, and 4) making sure a reputable HVAC technician installs your unit (and warranties their job). 
There are some things you should know about purchasing an Amana air conditioner, and it won't hurt to learn more about the company as its one of many reputable aircon brands.
How Reputable Is Amana?
Amana is one of many aircon brands (other popular brands include Lennox, Trane, American Standard, and Goodwin) and manufactures units on the low end and the high end. It's been around since the 1930s when it started by manufacturing walk-in coolers.
Today, Amana is owned by Whirlpool Corporation. 
What Are My Options With Amana?
While Amana offers a wide variety of products (including home appliances like refrigerators, washers, and dryers), it currently offers eight different aircon models on its website. Now, keep in mind, it's difficult if not outright impossible to purchase an air conditioning unit directly from the manufacturer–or even directly from a retailer.
The reason is that this is not a DIY job–installers can harm themselves if they haven't been trained and are not installing the unit correctly. So, while you can select the unit you're most interested in, you will most likely need to work with a certified HVAC repair company to purchase and install the unit.
Low End To High End
Amana's options range from units with a low SEER (14) to units with a relatively high SEER (24.5). Amana doesn't list its prices directly on the unit (you'll have to pay the retail price, which includes a markup), but you can expect to pay more for the ultra-efficient units than the less efficient units.
One of the other things that mark Amana's higher end units is better warranties. For example, the AVXC20, Amana's top of the line aircon, covers its compressor with a Lifetime Unit Replacement Limited Warranty and a 10-Year Parts Limited Warranty on all remaining parts. This means that if your Amana heat exchange or compressor fails while you're living in your home, you'll get a new one without any additional charge (not including installation fees).
On the ANX13, however, which is at the lowest end of Amana's product offerings, you only get the 10-Year Parts Limited Warranty. Since most units go out at the ten to fourteen-year mark, this likely won't be used. But that's the point, isn't it?
How Easy Is Shopping For An Amana Air Conditioner?
Amana's website makes it extremely easy to match the right unit to your needs. The company has an energy calculator on its main page to help you. First, enter your address so it can locate your average temperatures and temperature ranges.
Then, Amana will ask you:
How many windows does your house have?
How old is your house?
How many square feet is your house?
How many (finished) stories is your house?
What kind of current system do you have?
How efficient is your current heating and cooling system?
Are there any other benefits that interest you? (including remote control thermostats, quiet operation, and allergen and air filtration)
Once you've answered Amana's questions, the energy calculator will spit out three options for you, ranging from good, better, to best (and moving in price from low to high, as indicated by one or multiple dollar signs).
This comparison is extremely helpful because you'll be able to directly compare the most salient points of each unit: energy efficiency, indoor air quality, warranty, and thermostat.
At this point, you can also use Amana's dealer finder to locate a dealer who can help you with purchase and installation; at least now, however, you'll have more information at your disposal and won't have to rely exclusively on what the repair technician tells you.
How

Does

Amana Compare to the

Competition

?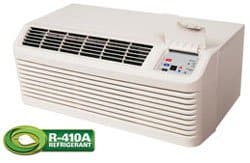 Image CCO via Flickr
[amazon fields="B0719JSRM9″ value="button"]
As we mentioned, Amana has lots of competitors, at both the high end and the low end. Lennox and Trane tend to have units that compete with Amana's high-end units, while Goodwin tends to compete at the low end.
The Best SEER Ratings
We have good news and bad news here. The good news is that Amana ranks favorably when it comes to efficiency and warranty. Its average SEER rating is precisely in line with other major aircon brands, while the only competitor who currently has a unit with a higher SEER rating is Lennox–and it's barely higher (26 vs. 24.5).
Amana also offers lifetime warranties on its top units, and that's something a lot of other aircon brands don't do. When it comes to things like noise, Energy Star qualification, and warranty registration deadline, Amana and most aircon brands are identical.
Are There Questions About Reliability?
Here's the bad news: unfortunately, a recent Consumer Report survey looked at information from approximately sixteen thousands homeowners to uncover the best air conditioning units. What they found was that American Standard was the least likely brand to break within five years (20%), while Amana was the most likely to break within five years (30%).
The difference, however, is a matter of ten percentage points, which is fairly small in the big scheme of things. And while 16,000 sounds like a large number of consumers, it's a relatively small sample size given the number of homeowners with air conditioners nationwide. It also only covered units bought during a three year period. All that to say don't hesitate to buy an Amana air conditioner, but do make sure you get a lifetime warranty when you do.
Our Final Thoughts
The bottom line is that a good installer can help you match the best efficiency to your home and the best warranty to your budget. There are lots of solid aircon brands available, but if you decide to go with an Amana air conditioner, you'll be in good hands.
Recommended Amana Air Conditioners
[amazon box="B0716Y9K53, B07289LXJN, B071Z83TLC, B0719JSRM9″ grid="4″]