*This post may contain affiliate links. As an Amazon Associate we earn from qualifying purchases.
When browsing aircon brands, you will likely come across the name "Kenmore." The company has been around since 1913, initially manufacturing sewing machines. Over the years, they branched out and produced more and more appliances. Kenmore now delivers various types of air conditioner units, including:
When looking through different products, you'll likely find yourself wondering how Kenmore air conditioners stack up against other aircon brands. Fortunately, we've takenthe time to review Kenmore air conditioners. Below, you'll find a brief breakdown and review of the various Kenmore air conditioners available for sale today so that you can make an informed buying decision.
What are Kenmore Air Conditioners
Conditioners and How Do They Work?
With multiple product-types available, Kenmore air conditioners work to keep you cool on even the hottest of days. The company offers three different wall air units, 18 different window air conditioners, and three different portable air conditioners. With so many options available, you should have no problem the unit that is best suited for your home or office. When writing this review, we tried to detail one product from each of the four categories. Otherwise, trying to keep track of 20 different units would have grownoverwhelming quickly! However, we found that the central air conditioning units varied significantly and we could not provide much of a review. But, by detailing three products, we provided you with a breakdown of this aircon brand.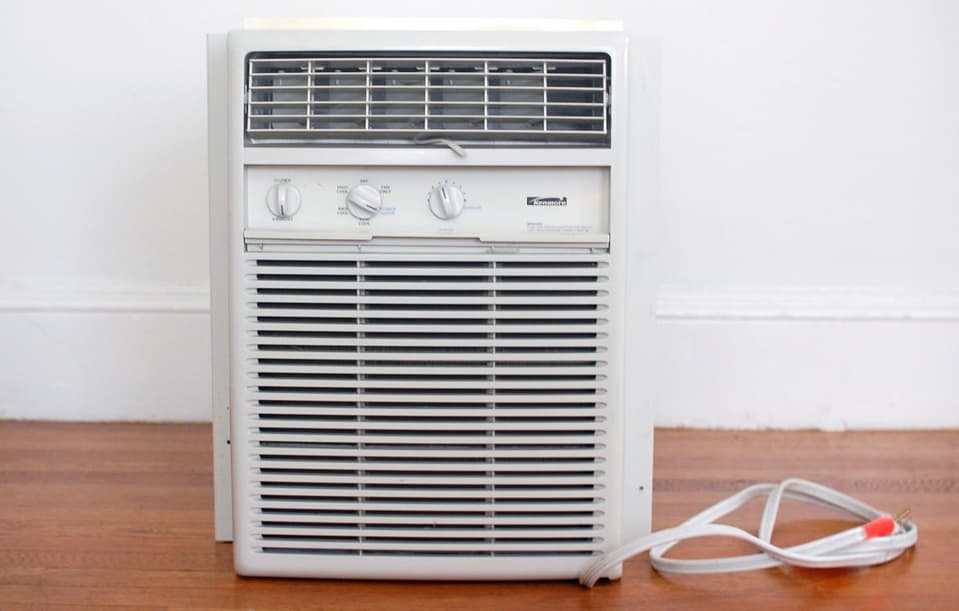 Image by Lynn Kiang via Flickr
The Kenmore Window Air Conditioner features 12,000 BTUs and runs on 115V of electricity. The company says that it is best for rooms around 550 square feet. The unit comes with electronic controls, including three cooling speeds and three fan speeds. The product also features eight-way air direction control. The unit measures 19" x 14.5" x 21.5" and weighs 70 pounds. The Kenmore Portable Air Conditioner features 10,000 BTUs. The company says that this model is ideal for rooms of up to 450 square feet. Customers can control the unit electronically, with settings such as "Fan Mode" and "Swing Mode." Fan Mode allows users to circulate air without cooling it, while Swing Mode cools a room quickly. The product measures 16.5" x 28.5" x 14" and weighs about 60 pounds.
Lastly, the Kenmore Thru-the-Wall Air Conditioner features 12,000 BTUs and runs on 230V of electricity. The company says it is best for rooms of roughly 550 square feet. This unit features four-way air direction control, along with three cooling speeds and fan speeds. This air conditioner measures 20.5" x 14.5" x 24" and weighs around 75 pounds. We also found that pretty much every Kenmore unit came with remote control. This gave them the ability to control their air conditioning unit without having to get up from their seat. The remote allows users to turn the machine on and off, as well as adjust the fan speed and temperature settings. Unfortunately, the remotes don't feature illumination, so operating them at night could be challenging.
What Makes Kenmore Air Conditioner
Conditioners Unique?
One of the unique features we've seen on new Kenmore air conditioners is the fact that they are compatible with Amazon's Alexa. After connecting the unit to your Alexa account, the smart home assistant could perform tasks such as turning your equipment on and off or setting a particular temperature in the room. Furthermore, Kenmore appears to have tried to branch into the world of smart home technology by offering a mobile application. Users can control their unit through the Kenmore Smart AC App on their tablet or phone. This allows them to not only control the air conditioner from any room but practically anywhere in the world.
For instance, while on your drive home from work, you can turn your air conditioning unit on before you get in the car so that your home is cold by the time you get home. This can help keep your energy costs down significantly since the air conditioning unit won't run throughout the day. With complete control at the palm of your hand, you end up cutting down on unnecessary costs.  It's worth noting that not all Kenmore air conditioners are compatible with these features. If these are something in which you may be interested, be sure to do your research beforehand and pay close attention to the product specifications. If you choose to purchase through Sears directly, consider asking a certified technician for assistance before making your selection.
Lastly, Kenmore products are ENERGY STAR certified, which can also help you save money. The units also come with "Sleep" and "Energy Saver" modes. Customers will likely find that taking advantage of these two modes will help them cut costs even further. It's clear that Kenmore has made energy efficiency a priority, which many customers should find beneficial.
Pricing
[amazon box="B073CVRM37″ template="horizontal"]
The Window Air Conditioner unit costs a bit less than $$$ on the Sears website. The Portable Air Conditioner unit costs just under $$$. The Thru-the-Wall unit costs around $$$. Sears does not offer to price on the Central Air Conditioner units. Additionally, customers can lease the products from Sears without purchasing the item. The company does not require the buyer's credit information to do so. These prices are comparable to what we found on third-party websites, such as Amazon. For instance, a Smart Air Conditioner that is compatible with Alexa is available on the Amazon website for a bit less than $$$. So, if the selling point is essential to you, we recommend browsing third-party sites to see if you can secure a better deal than you could through Sears.
Kenmore's warranty is also competitive, especially when compared to other aircon brands. The company says that the entire appliance carries a one-year manufacturer's guarantee against material and workmanship. This means that if your device is defective within the first year, they will repair it for free. Additionally, if broken beyond repair, the company will replace the entire unit for free. Kenmore also specifies that the sealed refrigerant system is also covered under warranty, although the company will protect against this for five years. In this case, the buyer is responsible for paying the cost of labor. It is unclear whether either Kenmore warranty applies to those air conditioners purchased from third-party vendors, such as Amazon.
When customers purchase directly from the Kenmore website, they can also buy a protection plan for their unit. A protection plan offers many perks that a standard warranty does not. For instance, a protection plan grants the buyer access to unlimited coverage with no deduction and fees. It also covers against repair due to normal wear and tear, as well as a replacement guarantee. It appears that for most products, a three-year protection plan costs about $$$, while a five-year protection plan costs a little less than $$$. If you plan to use your air conditioning unit frequently, you may find it in your best interest to purchase a protection plan. A protection plan is an investment in your device that could increase its longevity significantly.
Public Perception
Image by Elmhurst2011 via Flickr
When looking at various Kenmore air conditioners on the Sears website, the results were a bit mixed but tended to rank above-average. For instance, the Window Air Conditioner had a four-star rating with more than 35 reviews. The Portable Air Conditioner had a five-star rating, although only one customer had taken the time to review the product. The Thru-the-Wall unit had a 3.5-star rating with ten reviews. Many customers seemed to agree that their air conditioning unit did an excellent job of keeping their room cool. Some of the reasonings for poor ratings were because of other issues. For instance, one reviewer said that they work at night so they must sleep during the day and that the unit allowed it too much light for them to sleep comfortably.
Other reviewers seemed to take issue with Sears. They indicated that they did not have a pleasant experience working with Sears in the past and that they were skeptical to buy from them again. Reviewers found it unfortunate that the only way they could purchase a Kenmore product through an authorized dealer was to go through Sears. In summary, customers seemed to be more than satisfied with their air conditioning units. What we gathered when reading customer reviews was that if you are looking for a device that will perform well and keep your home or office cool, Kenmore is an aircon brand that you can trust. We value performance more than anything, so reading these reviews comforted our team.
How it Compares
[amazon box="B01GBDB4G8″ template="horizontal"]
When it comes to choosing an air conditioner, there are many options from which you can choose. One of the most popular air conditioners from the past year was the LG LW8016ER. This product costs around $$$, making it a much cheaper option than some of the Kenmore air conditioners. The unit produces 8,000 BTUs and runs on 115V of electricity. It measures 19.6" x 19.4" x 12.4." Similar to Kenmore models, the LG unit has three cooling speeds and three fan speeds. One of the unique features of the LG air conditioner is the fact that it dehumidifies as well. Customers will no longer have to purchase both an air conditioning unit and a dehumidifier since this unit does both. LG states that the air conditioner can remove an incredible 2.2 pints her hour, which is practically industrial-grade.
Although the LG model is ENERGY STAR efficient, it does not have nearly the same features as some of the Kenmore models. For instance, the LG model does not have options such as Sleep Mode. We also did not find smartphone capabilities for the LG product, which means you must be present to turn the unit on and off.
What We Think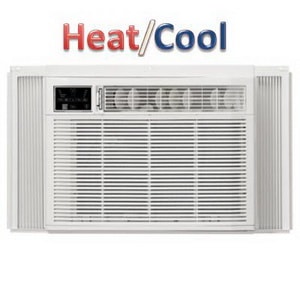 Image by Jack Romer via Flickr
When it comes to aircon brands, Kenmore is a name that we can trust. The company has produced air conditioners for years, consistently delivering quality products. When conducting our reviews, we found this still to be the case. Although we were initially off-put by some of the prices of the units, we quickly realized that this was an investment that could save money in the long run. That's because Kenmore has done an excellent job with their energy-saving technology. The Alexa feature as a nice touch on some of the units that we reviewed, but what stood out to us most was the smartphone app. The app made it possible for users to control their unit from anywhere. For those with portable AC units who can't use something like a Nest thermostat, this was the next best thing.
It was unclear to us whether warranties were still intact if a customer decided to purchase their air conditioning unit from a third-party seller such as Amazon. For some customers, the warranty and protection plan may not be a significant deal. However, Kenmore offers a pretty thorough warranty plan and an even better protection plan. Customers may want to look into making this investment. In summary, if you are looking for an aircon brand that you can trust, Kenmore is an excellent choice. With multiple products available, we're confident that you can find the unit best suited for your home or office. While there may be cheaper units available, "you get what you pay for." A Kenmore purchase is an investment in a quality product that could last for years. 
Coupons and Deals
[amazon box="B01LWKRPBM" template="horizontal"]
If you need an air conditioning unit, you can contact Sears Home Services for a free consultation. During this consultation, a Sears agent will work to determine the proper Kenmore air conditioner for your home by performing a load calculation estimate. The free estimate will save you money in the long run, as it will prevent you from purchasing system that is too large or too small for your needs.
When we were browsing aircon brands on the Sears website, a pop-up advertisement for a coupon also appeared. At the time of us writing this review, Sears was offering $ any purchase of $$ or more, or $$ any order of $$$ or more. Customers had to enter their email address to receive access to the deals. Be mindful of potential sales when purchasing from Sears directly.